Our Farm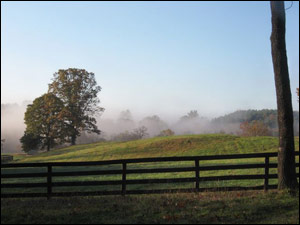 Thistle Hill is nestled along the banks of the Rappahannock River. The Blue Ridge Mountains dominate the western horizon and, on our farm to the East, are the low ridges that have been in woodland for the past century. It is a pleasant scene that attracted our family many years ago when the roads were still gravel and not heavily traveled. And we have been here since, tending the pastures and trying to be good stewards of the land.
Our family has always believed that healthy soil, healthy grass, healthy animals result in healthy meat and healthy families. And our pastures are the source of our own healthy meat. We do not use petro-chemical fertilizers or sludge from the city or herbicides, pesticides of any kind. We do use foliar fish oil mixed with kelp or organically- certified sea minerals to constantly build up the soil to maintain the good microbes that promote a healthy stand of grass. Mostly, we use our cows as "four-legged fertilizer spreaders", recycling 90% of the nutrients they consume right back into the soil. We are constantly testing our soils, our forages and water to come up with that remaining 10%.
We seek to maintain a low carbon footprint by staying in sync with what Nature has given us and encouraging the diversity that was meant to be. So when you purchase Thistle Hill Beef you are not only giving yourself and your family pasture perfect beef that is tender, flavorful and healthy, you are also making a responsible choice for the environment.
Our Cows
…are built around the great English cow Tilbrook Cashtiller. She won three consecutive national grand championships and a host of ribbons and silver. And to top it off three of her sons were the top selling bulls in the annual Devon breeders sale. We're indebted to Tibrook's Gavin Hunter…who again today is serving as president of the British Society …for permitting us to flush Cash twice!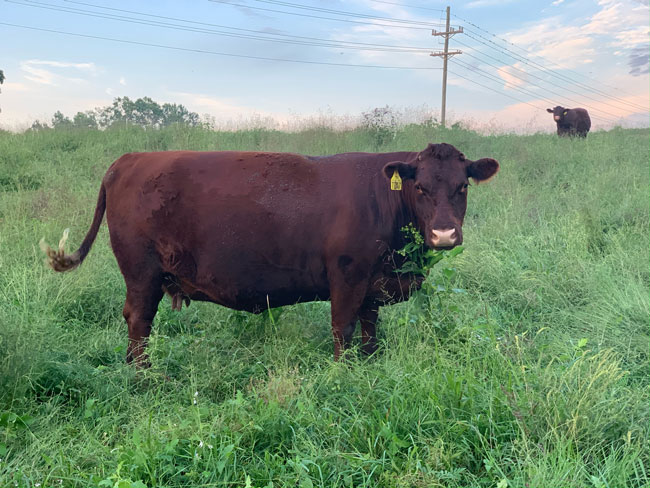 TDA 7
TDA 7 was out of that first flush 12 years ago and not showing her age. Her sire was another British champion, Cutcombe Jaunty. Cashtiller is gone now but we have several of her daughters and granddaughters and other descendants in our herd…and some embryos for the future.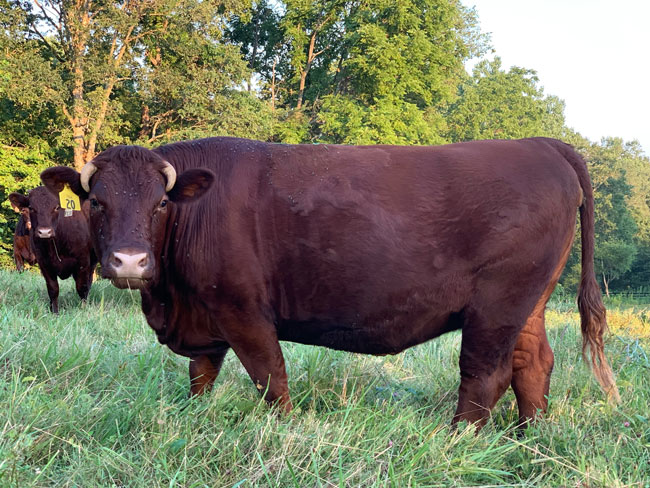 TDA 20
TDA 20 is a special cow with Essington and Cutcombe genetics…and is a Cashtiller granddaughter as well Brian Drake of Essington Park was a leader among English breeders for 50 years and a respected judge for the British Society. His herd was small compared to many but the quality was unmatched by any herd we've ever seen.
TDA 23
TDA 23 was an English pairing and an early use of Ashott Barton's Falcon…a stunning bull we found on Ivan Rowe's Goldings farm. We mated him to a cow from Brian Drake's Essington Farm. There are no two more experienced Devon breeders in all of England than Ivan and Brian. Both lamented the dilution of the Devon breed with outside genetics and after 70 years in the business gracefully exited the Devon scene.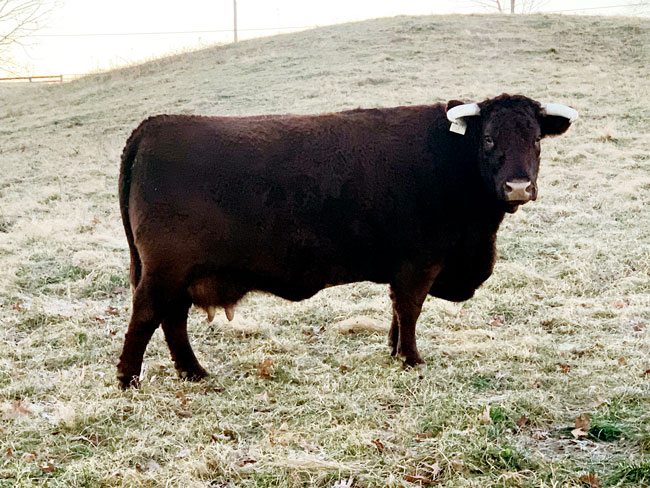 WMD 2
WMD 2 has joined us through a circuitous route. Her dam was the daughter of a beautiful cow, Lakota's R6. Mom was sold to Bill Ketner's farm in West Virginia and while hauling a bull one day Church spotted 2…and the rest is history. Her sire was the English bull Highwayman. The result is this cow who looks more traditional than some of her herdmates. Note the deep Ruby red hair coat!
F212
F212 is another Highwayman son out of M180, a cow that deserves a webpage of her own. Before we began our English concentration, M180 was practically a bull machine! Many years the sale of her progeny paid the herd's feed bill. Visitors think her name should be Thank God since we always related that we had about 10 bull calves before (thank God) a heifer, 212, came along!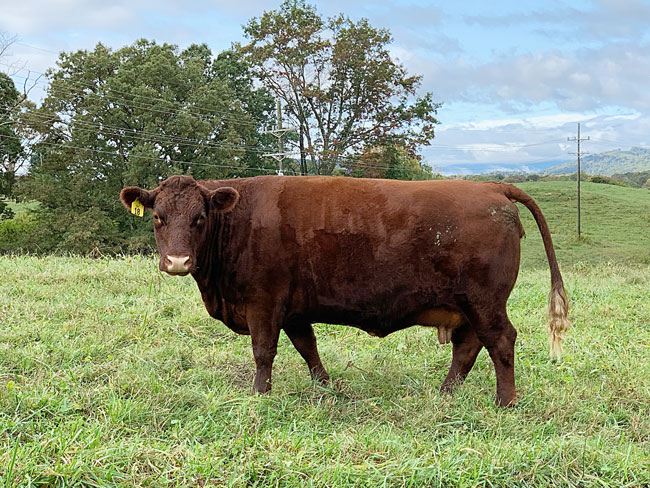 TDA 18
TDA 18…another Cashtiller daughter. She's out of 7 (see above) and sired by Thistle Hill Highwayman so she's got all our great English lines in this one package. An obvious candidate for eventual flushing.
With more than 40 females of all ages this is by no means a complete inventory of the Thistle Hill herd…English and American…bred and open younger heifers.
To arrange a visit at this perfect time of year in Virginia contact Church:
(214) 802-1283
Learn More
This has been a brief introduction to our farm and our meat and the art of raising grass fed beef. What follows is a list of books and websites that will tell you much more.
Books:
Omnivore's Dilemma by Michael Pollan….the best-seller that brought healthy eating into the mainstream culture.

The River Cottage Meat Book by Hugh Fearnley-Whittingstall…a beautiful and fascinating book that every lover of meat should have close at hand. Written by a popular British television chef who raises his own Devon beef. Lots of pictures, recipes and tips.

Pasture Perfect by Jo Robinson….she was "there" before Michael Pollan and still the most valuable guide to eating naturally and healthfully.

Grass Fed Gourmet Cookbook by Shannon Hayes…a farmer's daughter tires of the nonsense written about cooking grass fed meat and so writes her own cookbook.

Fast Food Nation by Eric Schlosser…for a look at how fast foods changed the landscape of food production and its ramifications for America..

Animal, Vegetable, Mineral by Barbara Kingsolver. A Virginia poet relates her experiences taking her family to live entirely "off the land".

The Shameless Carnivore by Scott Gold. This is not to be confused with a "shameful" carnivore, who is completely disassociated from the animal. The author advises: "Visit a family farm or any small producer that is really conscientious about how they raise their animals. This is in and of itself very important, not just for the animals' welfare, but for our welfare and the welfare of the planet. And obviously, for flavor, which is what it ultimately boils down to, the happiest animals make the best meat."
Websites:
www.EatWild.com Jo Robinson's compendium of everything you could possibly want to know about natural, safe and healthy grass fed meats.

Greener Pastures A free report from the Union of Concerned Scientists about the nutritional benefits of grass fed beef and dairy products.

www.grandin.com The leading authority on domestic animal behavior (see above), whose break-through theories are now gaining acceptance in the cattle industry.

www.blueridgemeats.com Lois and Doug Aylestock's own website where their dedication and philosophy shine through. Does your butcher talk like this?

Merry Moo Market - Flint Hill, Virginia - The Merry Moo Market is a small gourmet store offering fresh meats, seafood, game, local meats (including Thistle Hill beef and pork, of course) and fine wines.

All game and meats are raised without antibiotics and hormones. There's Trickling Springs ice cream, too, but leave the "coffee" for me!