It takes a village…to create an exceptional bull
Our two main herd bulls this year are TDA Highwayman and Churchill, introducing what we think are the best of pure English Devon genetics into North America. Both are magnificent animals, with optimal conformation as well as temperament.
TDA Highwayman
Highwayman, brought to this country as an embryo out of Goldings Norah 21st and prize winning bull Ashott Barton Millenium-Falcon by Wooz and David Schoumacher and Nancy and Bill Walker, was born on Thistlehill Farm and has been with our main herd both this year and last. We've been excited about his progeny, in particular two of this year's crop, Samson, and Goliath. Samson was the first calf born in fall 2017 under Curt's watchful eye, and Goliath was the third. They have been strong and vigorous calves from the moment they hit the ground, and they exude masculinity even as young calves.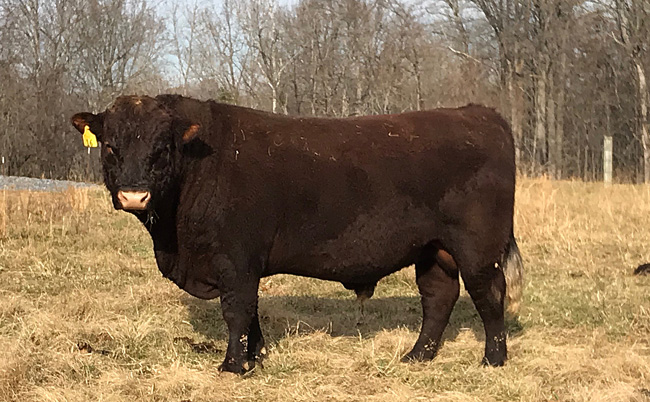 TDA 16, Cutcomb - Sired by Ashott Barton Millennium Falcon. Dam is TDA 4
Cutcombe represents one of the first second generation all English animals born in America. Sired by Ashott Barton Millennium falcon and out of TDA 4. We hope to see his deep ruby red coat show up in his upcoming calves.
Churchill
Churchill, also imported as an embryo into this country by David and Wooz Schoumacher and Nancy and Bill Walker, is the product of prizewinning English Tillbrook Cashtiller9th, and semen from Cutcombe Jaunty, a famous English bull known for his stylish jaunty headdress. Churchill has had a number of heifers and bulls we are excited about.
Like Wooz and David, we have maintained only the best looking and even tempered bulls as bulls, and have steered the remainder. Having spent much of his summers on the farm, young Church has been the one to make the "final decision" and we feel the end result is an upcoming crop of bulls that will carry on the Thistle hill tradtion.
In our "nursery" currently there are three pure English bulls, all a year old. All are embryos from Goldings Norah21st and Ashott Barton Millenium Falcon. Alongside them are "King David," a cross of English genetics in TDA Victory, with American in a Lakota line cow.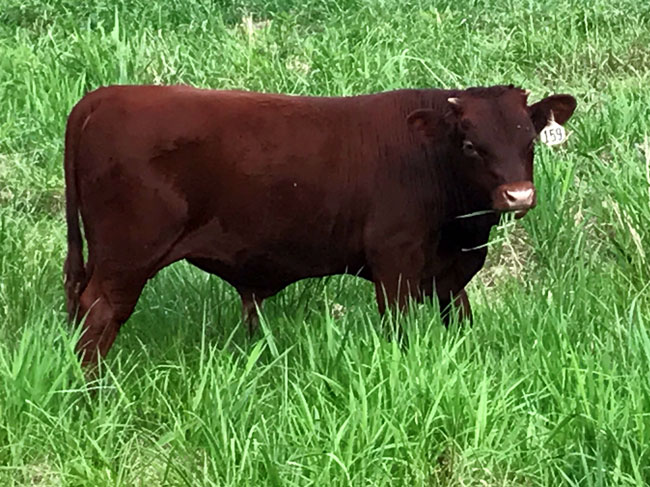 King David
Our "teenagers," bulls we think are promising, introduced this year in many cases to cows for the first time, are TDA Ransom, TDA Essington, and TDA Cutcombe. Our final teenage, Guardian, is the product of Rotokawa and Lakota genetics.
Ransom, Cutcombe and Essington
Over the years we have had many exceptional bulls such that Bill Roberts, who has seen many Devon bulls through out the country, has said of our bulls, "You have the nicest looking set of young bulls in the best condition I have seen to date…you have tremendous "uniform quality" which is the mark of a great program." Our current group of bulls follows in the same trend set by Magic, U2, Jackpot, Blizzard, and Double-Trouble.
Bred Heifers
               
If your herd is like ours, every year is seems that the same numbers keep popping up among the"finishers", the ones with the top calves.  R2 and R3 are like that.  One year they have bull calves, the next heifers, and always those calves place 1 and 2.  In 2008 they gave us the two heifers---T2 and T3---you see here and the pairings again were to Rotokawa sires.  Both are carrying calves by the well-known 93.  To the right is a 982 daughter,Thistle Hill 312, and she's bred to a son of Rotokawa 974.  Needless to say, we're looking forward to this pairing.  All three of these heifers are moderate sized Frame Score 3s with surprising capacity.
Yearling Heifers
These are just a few of the many top calves from the class of 2009, probably the best group of females we've had so far.  The dams of the first two were our pick out of the Trantham's Lenoirs Creek herd when we founded our Devon herd a few years before.  You'll probably recognize the number 256.  Her grandma is 18 years old and runner-up as the oldest, still-producing Devon cow in the country.  93-1 is an embryo calf by Rotokawa 93 and the great Lakota cow, 183.   She had 3 heifers in that flush and they're all ready to breed.
Heifers
| | |
| --- | --- |
| | |
| W64 | W1W |
Just as the year before saw a bumper crop of heifers, 2010 was our year for bulls.  The result, of course, is few heifers for you to choose from.  But here are two of our top prospects from this class.  W64 was sired by Thistle Hill Magic, probably the thickest bull we've ever raised here.  He's now on the job down in Kentucky.  W1W again is a calf sired by Watson.
This section would not be complete without mentioning that while heifers are scarce here on the farm as this is written, in few months their numbers will explode with the arrival of our embryo calves from a farm in the Shenandoah Valley where they've been with their recip mothers. There'll be heifers from our "Wow Cow" by 688….and not incidentally a few line-bred 688 daughters.  You'll want to watch for them.
A note of thanks:  we want to add here that obviously we owe a great deal to the famed Rotokawa herd.  We did not set out to be so "heavy" with Rotokawa genetics, but again and again, when it comes time to choose we wind up selecting Rotokawa.  So thanks to our good friends frequent consultants Ken McDowall of New Zealand and Ridge Shinn of Rotokawa/America.