Ready to start…
…the main herd reporting for their preg check. The calves have been separated to be worked separately…vaccinations, dehorning, steering. Curt is the chief wrangler today…waiting for the signal to start bringing them in.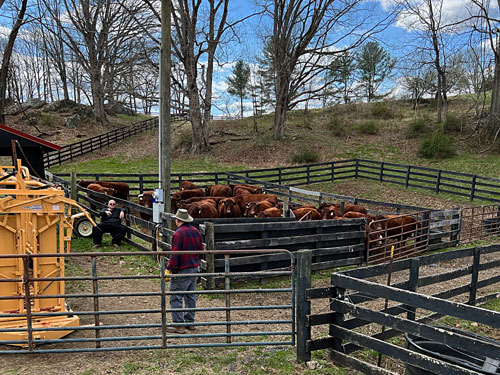 Photo by Mackenzie Mason
For the rest of the story and "what's new" at Thistle Hill
---
A winter morn…
…and a few Thistle Hill Devon are finding the remaining morsels of a hay bale unrolled yesterday. They (and we) are anxiously looking for new growth.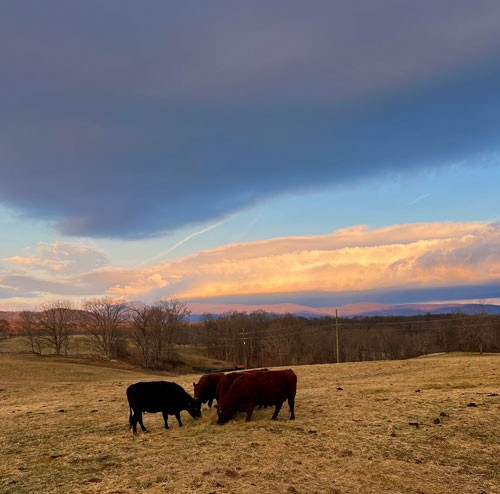 Photo by Curt Humphries
---
After the storm…
…a mother and son relax on the comparative warmth of an unrolled bale of hay. It provides some insulation against the frozen ground below.
Photo by Curt Humphries
For the latest from Thistle Hill
---
Call him a "meat wagon"…
…the great Potheridge President…a Devon champion 70 years ago.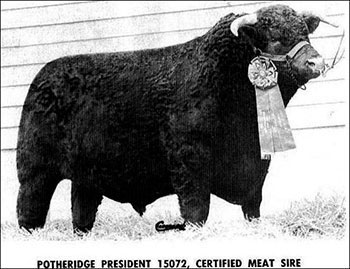 When the Armour Packing Company imported Potheridge President from England to the United States he pushed the bar way up for quality and efficiency in beef cows.
In fact President set the standard when he was the first bull singled out by the USDA as an outstanding beef producer. It was a "real world" test against 12 other bulls…most Angus or Hereford. And what was measured were their calves…more than 100. President finished high in all the categories and scored at the top in ribeye area, cutability and carcass value.
Fortunately what was then the relatively new science of artificial insemination and cryogenics makes President…gone for half a century…available to us today. And not long ago we concluded a purchase of a number of straws of historic Devon semen from Heather and Don Minto when they liquidated their herd in Rhode Island. Among the purchases were two ampules of semen…the equivalent of four straws…from President.
So it was a noteworthy day…a tense day to be sure…when Thistle Hill recently used that rare semen and implanted eggs fertilized by President in our cows.
For a photo report on the big day go to What's New
---
Another Thistle Hill sunset…
…with thanks to the Blue Ridge!
Curt was awaiting the latest delivery when he snapped this. We're certainly blessed to have wound up in this little corner of the world…and fall is the best!
---
Autumn morning…
…a tranquil sunrise at Slainte Farm…a Thistle Hill cooperative partner; home to our just-weaned heifers.
Photo by Mary Perrine
For what's new at Thistle Hill Devon
---
Ladies in waiting…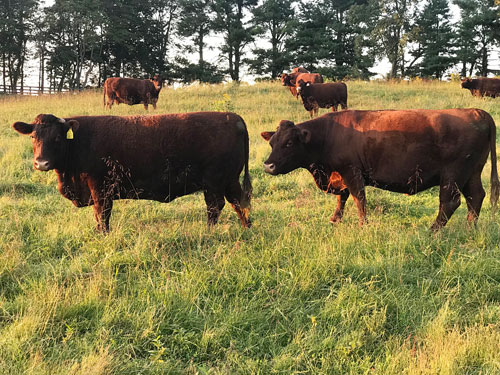 Photo by Carolyn Matthews
…have been moved to the pasture closest to the house where we can keep an eye on them.
It's interesting that none of the cows in this picture is actually grazing…they've all adopted that far-off stare of cows waiting for birth. That event begins in just a few days!
Keeping an eye on them has suddenly taken on added meaning. Two nearby farms have been struck by cattle rustlers and we've all gone on alert.
With the number of expert marksmen on these farms, the rustlers are playing a dangerous game. Son Church, while standing in front of our house, once hit a fox 300 yards away running across this very pasture.
---
Chillin' out…
…these Thistle Hill mama cows relaxing on a summer afternoon.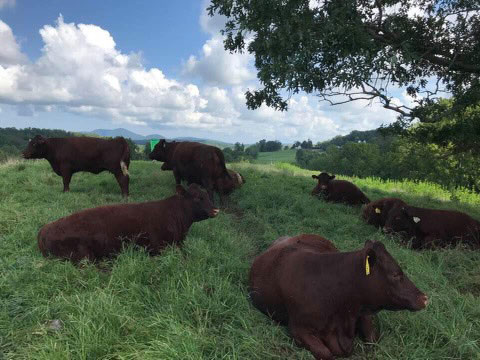 There's not only shade but there's a nice breeze on that hilltop most days. And cool water is just a few steps away
It's a well-deserved break for these cows. Their babies from last year were weaned a month ago and in another month they'll be having this year's crop of calves.
For now they're just taking it easy…storing energy for the job ahead.
---
A great leap forward…
…for grandson Church as he departs Thistle Hill for veterinary school.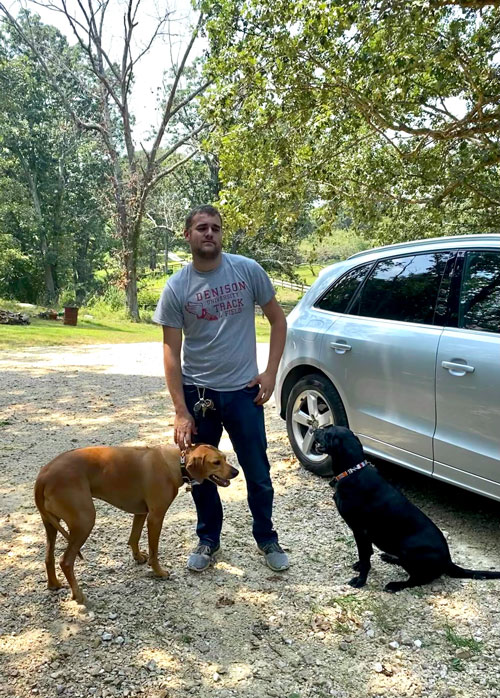 For the past two years Church as stepped in in my absence to handle our Red Devon herd. All the while he also completed an advanced degree in biology.
Now it's on to Cornell University and one of the leading veterinary programs in the country. The competition for admission is fierce…exceeding only by the pressure from his high-powered class mates.
Church has an amazing knack for handling animals. They just seem to want to do what he asks. We have no doubt that he will become a leading light in the veterinary world.
Just to keep an eye on him, I'm sending along my dog Pokey. She's at the stage now where she just prefers to sleep so there may be a course she can take to hone that skill.
For what's new at Thistle Hill
---
The class of '21…
…welcomed to the Perrine's nearby Slainte farm by the year around dog in charge, Molly. This group of 14 includes both heifers and steers.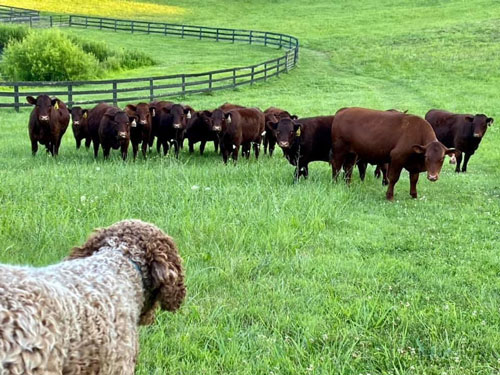 The Perrines and their neighbors, the Ferro's, have been taking our young calves for a number of years. That larger calf to the right is a Devon-Senepol cross…a testimony to the magnifying effect of heterosis or out-crossing.
The mama cows remain at Thistle Hill and they'll be delivering new babies in about two months. Separating these calves enables us to bring bulls to the main herd for rebreeding.
Incidentally these calves aren't the entire class of '21. There are another 7 that have moved under the care of Joan Fleck, a well-known Virginia horsewoman. We've said many times that Thistle Hill could not provide the quality seedstock we do without the help of our neighbors.
This is the time of the year to strengthen your herd with Thistle Hill genetics…from open young heifers, to heifers bred to a choice of bulls, to young cow/calves to three-in-ones! You can also supplement your meat program with one of our grass fed steers.
---
An early morning stroll...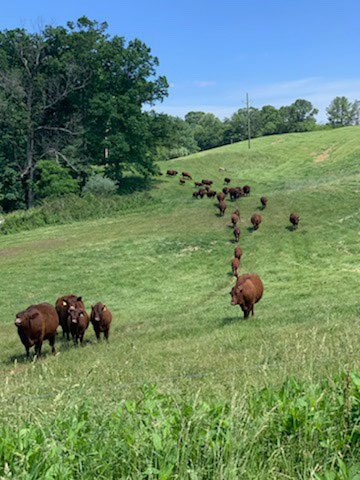 ...but with a purpose. This part of the herd has finished strip grazing the East pasture and is moving to fresh grass in the West pasture.
This is not the entire herd...just the mamas with their steer and heifer calves. At about eight months we move the bull-calf pairs to an auxiliary field.
An important thing to note is how well-behaved our Devon are. Church is taking this picture and they come at his whistle...no shouting, or whips or dogs. Of course the cows know there's ice cream at the end of this trail, and though there's pretty good grass where they're walking, they want to do as Church asks.
For what's new at Thistle Hill
---
A spring morning...
...and unrolling the bales of hay insures the young ones get full measure.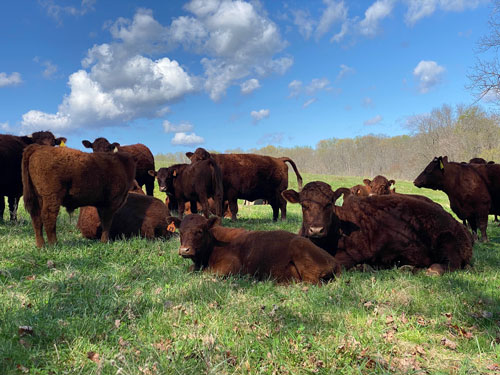 We've moved the mama cows near the main pens. We're getting ready to preg check them and sort out the calves for tattoos, vaccinations and castration. So this is a lull before a very busy day. Also scheduled: the bull calves and their mamas will be moved to an auxiliary pasture. The young are now "experimenting" and we want to separate them before we have any "accidents"!
---
Breakfast at Thistle Hill...
...and unrolling the bales of hay insures the young ones get full measure.
The young bull calf in front has American genetics...the one behind him is all-English! The dark ruby red haircoat is a give-away. You can read the latest on this young Englishman...four and a half months old...
---
Lots of moving parts...
...to keep track of...particularly during calving season. Carolyn Matthews here surveys part of this years crop.
At this writing we've welcomed 21 calves...with another half dozen still to come. Of the calves 14 are bulls and 7 are heifers.
The question will soon be to decide which bulls are steered to go into our meat program. With separate purebred English and American herds we have to retain a high number of animals from specific lines.
Confusing at times. Why it's good to have smart kids!
For the latest from Thistle Hill
---
Sláinte...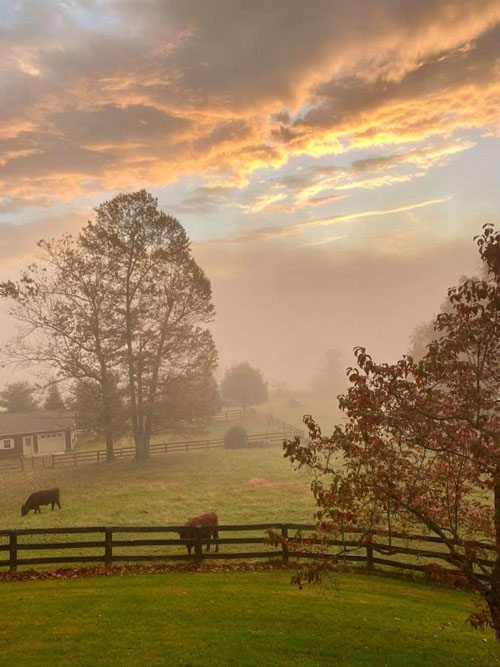 Photo by Mary Perrine
...the name of one of our cooperating farms. It's where we keep and breed our promising heifers (and an occasional steer).
There are three farms where we pasture our younger animals...they wind up getting more individual love and attention (and treats) than they'd ever get at our home farm. We couldn't manage without these friends!
---
Proud Mother...
…and son. The bull calf is now a week old and shows promise.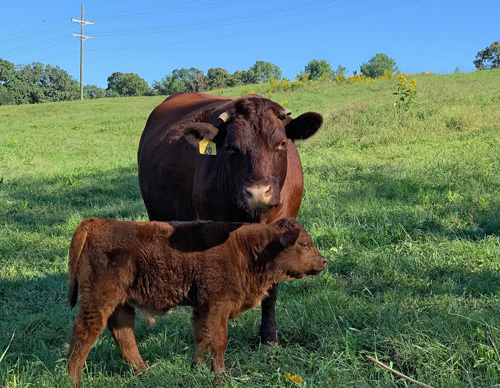 He certainly has the pedigree: his grandmother was the great Tilbrook Cashtiller…who dominated English show rings for many years. And for three years running her bull calves topped the sales!
We think the sire was from another well-known line, Champson Defender. But we won't be sure until we get the DNA. This was the first success at AI-ing for grandson Church.
We're hoping for more than 25 calves over the next month or so. You're always welcome to drop by and talk Devon.
---
The Thistle Hill Alumni Club...
...and a recent graduate...Equinox. He's a combination of our top English lines.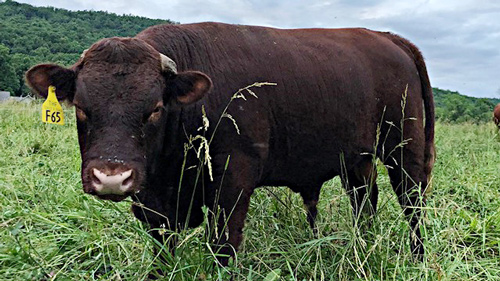 Equinox is not quite two years old and at 900 pounds has a lot of growth yet to come. But he went right to work covering the herd at Spring Pastures farm in Maryland.
---
Traditional Devon weather...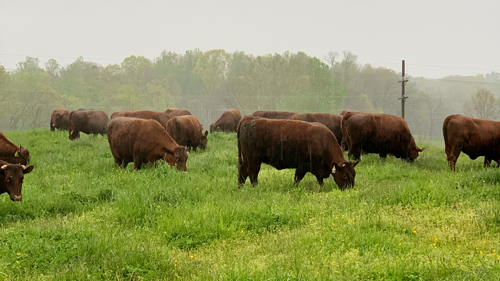 ...it's a scene that could be a duplicate of southwest England: a misty, cool morning; Ruby Red Devon grazing contentedly. And genetically these cows trace back more than 150 years...to the great Devon herds that have been the foundation of English beef.
Sadly, the breed has been tinkered with...recent investors trying to increase the dollars of yield.
Today it is almost impossible to find a pure English Devon cow in England, not in Cornwall...nor even in Devon. In fact, one of the few surviving traditional English herds is here in America...at Thistle Hill!
There's a reason Devon was nicknamed "The Butchers Breed" almost 200 years ago. You may want to discover a beef flavor you've been missing!
For the latest from Thistle Hill
---
What it's all about...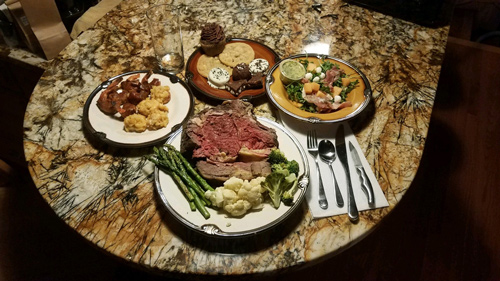 ...and this is the final justification for what we do...this picture of a prime rib on the dinner table of one of our customers. He says it was "amazing"!
And we do feel there is something special about the taste of the meat raised at Thistle Hill. Perhaps it's due to what the wine people call the "terroir"...more than the soil but the topography, the water, the climate. Even the long extinct volcanoes.
And we've cared for the land. Our grazing practices are actually restoring pastures to what they were in the time of the buffalo. It's been decades now since we've used herbicides or pesticides..."cides" of any type. Thistle Hill meat comes from terroir as pure and natural as can possibly be.
In these times, pure, nutritious food is the best protection your family can have. Let us humbly suggest you owe it to them.
---
Parade of (baby) bulls …
…features three of the yearling bulls we're holding back to see how they develop.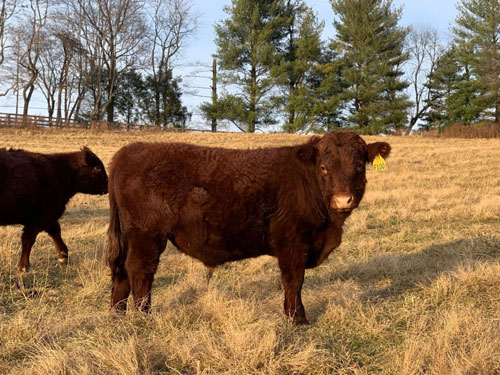 The first is the final pairing Wooz selected on her last trip to England. His dam comes from the famous Tulip line. The breeder resisted collecting her and after some to and fro, we bought her outright! For more
---
Reddi for action...
Not a misprint; that's his name!
He was Red Lad when he left Thistle Hill several years ago for Spring Pastures Farm near Middleton, Maryland. There, Brooke Henley immediately dubbed him Reddi.
He was a well-mannered young man...one of Wooz' favorites. Now with 19 progeny on the ground and more to come, Brooke and her husband Tom Garnett have regretfully decided he should move on. In fact since this picture was taken, Reddi has already been sold to Keystone Farms in Pennsylvania.
The nice things Brooke says, coupled with "gushing" reviews of Thistle Hill bulls from Clark Farms, a commercial Angus operation in southwestern Virginia, prompts us to launch a series on the current young animals in our bull pen.
We probably spend too much time spotlighting our pure, traditional English herd to the slighting of our early Devon...which are largely based on Rotokawa genetics. This series will correct the balance and along the way highlight the wonderful blending of the two.
Thistle Hill probably has the widest selection anywhere of the progeny of Rotokawa bulls, personally bred in consultation with Ken McDowall.
As always we invite you to visit. Thistle Hill is in northern Virginia nestled in the foothills of the Blue Ridge Mountains. It's a lovely time of the year to visit.
---
Perfect for summer grilling...
...just in time for your family cookout: Thistle Hill steaks, ribs and burgers.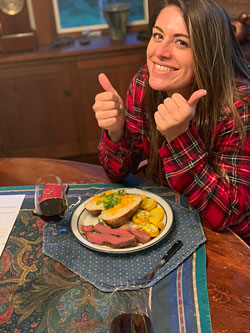 For the first time we're offering individual packages...no longer only bulk sales! You owe it to your family to try delicious, healthful grass fed Devon beef.
Our animals are raised and finished without supplements, pesticides, herbicides or antibiotics.
Hamburger is wrapped in individual one-pound packages for just $7.50/pound. Steaks start at $15/pound. Yes, and there are bulk discounts!
Farm pickup weekends and by appointment. Email ahead and your order will be waiting but we urge you to allow some time to look around.
Fun for the kids and you'll learn why Thistle Hill meat is simply better. Also checkout our pig pasture. Yes, pastured, acorn-fattened pork is coming soon, too!
Thistle Hill Farm complete price list. Or call or write Church at (214) 802-1283 or info@thistlehill.net
---
Return of the prodigal...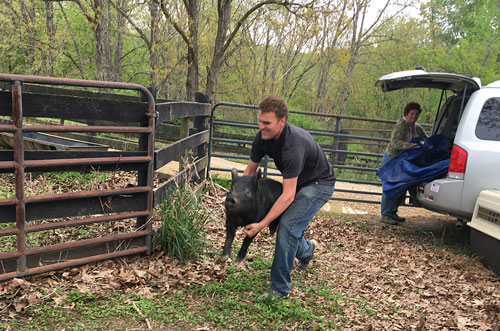 ...perhaps not literally but Thistle Hill once again has pigs in residence. Farm manager Church Humphreys finally relented and so, after a two -year hiatus, we will again be able to offer healthy, pasture-raised pork fattened with the added flavor of our acorns and chestnuts.
These are mule foot pigs, unlike the Tamworth and Gloucester Old Spot we've had before, which were English heritage breeds. The mule foot is descended from Spanish pigs which were imported hundreds of years ago into Florida and became almost extinct because they grew too slowly for commercial operations. But slow growth means big flavor. The name derives from the fact their hooves are not cloven.
The first meat should be available in the fall but some of the younger newcomers won't be ready until the end of the year. By the way, we're told that mule foot ham is particularly delicious.
---
Lord of the manor...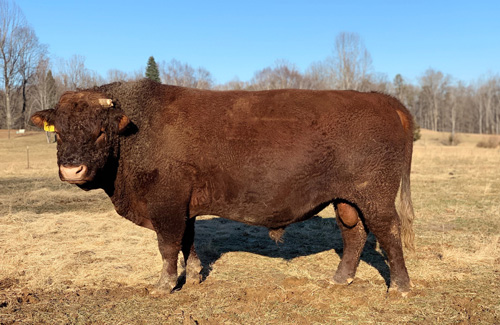 TDA Churchill was the first bull we developed in our pure English Devon project and we now have about a dozen of his progeny in our herd.
Churchill's dam was the best Devon cow we ever saw. She was national grand champion three years running until her breeder, Gavin Hunter of Tilbrook Grange, took pity on other English breeders and stopped showing her.
Just as impressive...for four straight years her sons (Churchill's brothers) topped the national Devon show auctions. We'll always be grateful that Gavin shared Cashtiller with Thistle Hill.
Cashtiller grandsons and granddaughters are available for inspection at our Farm.
---
An "energizer" cow...
...THF 18 is 13 years old now and keeps churning out healthy calves. One of her bull calves...like this one...would be an ideal herd sire. Longevity coupled with easy calving is the basis of success.
THF 18 is by no means our oldest productive cow....that would be 180, who is 16 years old. A grass fed cow should have no problem reaching 20. Grain also does terrible things to teeth in addition to the rumen.
We suspect that using our pure traditional English Devon bulls on our American herd is going to further improve the health and longevity of our cows. Working to balance the demographics of our herd is a big part of our job now...and a sometimes emotionally painful one.
To read more about THF 18 check out our blog.
---
This just in...
...all natural grass fed, grass finished beef! Now there's a delicious mouthful...and nutritious, too!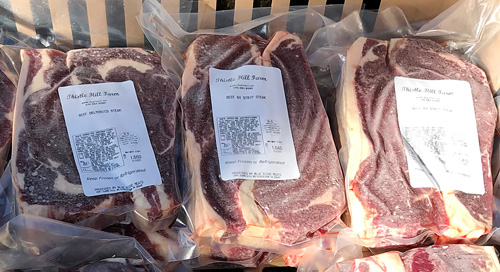 Thistle Hill Farm is back in full operation now under the direction of grandson Church Humphreys. Our focus remains the marketing of the very best Devon seedstock but that doesn't mean we can't set aside a limited number of animals for personal consumption.
Again we're offering whole carcasses, halves and quarters. Bulk Prices range from $7 to $7.50 a pound...and that's packaged weight in individual cuts.
We'll also endeavor to provide special packages of our mouth-watering hamburgers. You've never tasted anything this good..and a bulk buy at just $6 a pound is a family bargain.
To order or to be placed on our mailing list get in touch with Church at info@thistlehill.net or phone 540-364-2090
---
A November morn...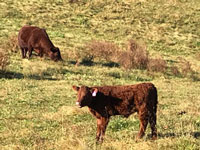 With the extra hour in the morning, grandson Church was out roaming the pastures checking on some of our new little ones. Grandpa was along for the ride thanks to modern technology.
A pure traditional English Devon...this is Equinox...six weeks old. Dam is Buttercup; sire is Churchill. Bred and calved here.
Again pure English Devon, an embryo we implanted here. He's out of Ashott-Barton Tulip by Cutcombe Jaunty.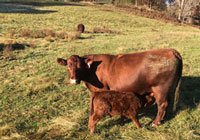 Finally and really finally since we have waited a long time for this: an A/B Bribery heifer. Of course all English. Sire is Jaunty.
Church is managing Thistle Hill now . He's dividing his time between that and pursuing an advance degree in biology. But he's never too busy to welcome visitors to Thistle Hill Farm...home in America to pure, traditional English Devon.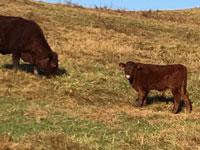 For more on him and Our Team.
Closing the circle...
There was celebration for all of us at Thistle Hill recently. A process that began eight years ago was finally cemented when we brought the final group of pure Traditional Devon females to their home in Virginia.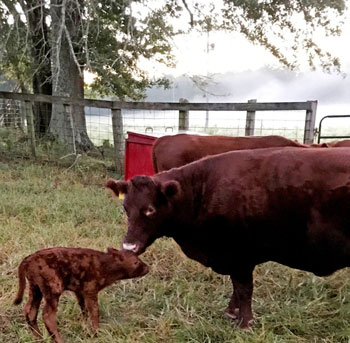 We always felt that it would take a base of 25 females and three bull lines before we could begin a fine-tuning process.
It was our dream, Wooz' and mine...daughter, Carolyn, underwrote the final steppingstone...and grandson Church not only conducted the final negotiations but provided the muscle and energy to face Hurricane Florence and bring the girls home.
A pure traditional English Devon herd, happy and productive, here in Virginia!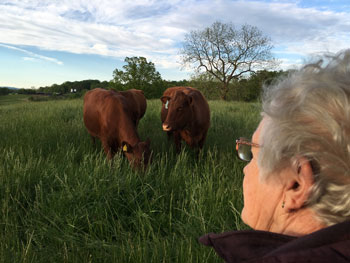 Best of all Wooz' family is happy and productive, too. Son-in-law Curt has managed the farm for the past year while his son finished college. And Wooz' son, Church, has always been ready to run out and add muscle when needed.
It's a talented and solid team. For more about the future of Traditional Devon, keep checking the blog.
---
The journey thus far...
It was about 8 years ago that we began tramping the fields of southwest England looking for that increasingly rare and elusive specimen: the pure, traditional English Devon cow.
We had no idea that finding it would be the only part of the problem. We were unprepared for the layers of regulation, the bureaucratic red tape, the unexpected health challenges, and the cryogenic tank thaws at airports....on both sides of the Atlantic.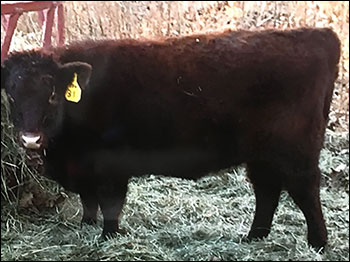 But TDA 31 Norah, an embryo daughter calved here out of Ivan Rowe's Goldings Norah, makes it all worthwhile. Ivan's farm is right on the Atlantic at Lands End. The sire was Shiamala Comer's Millennium Falcon. Both animals have pedigrees going back more than 130 years!

Thistle Hill today has four yearling pure English heifers like Norah, a half dozen older pure English cows, and five yearlings that are half English and half Rotakawa. Over the years Rotakawa founder Ken McDowell has been here many times, advising on our breeding decisions.

You're always welcome to drop in, too, and study the results. Today it's just about impossible to see pure traditional English Devon...even in England!
---
Highwayman, son of Golding's Norah 21st and Ashott-Barton Millenium-falcon, Highway man is passing on to his progeny the best of pure English Devon genetics. He is co-owned with Nancy and Bill Walker.
If you want to see God smile…tell him your plans.
Always a favorite saying around Thistle Hill Farm, the power of never taking anything for granted was demonstrated repeatedly this past year, and we only now feel like we are crawling back to a new normal.
Wooz Matthews Schoumacher, matriarch of Thistle Hill Farm and long time registrar for the North American Devon Association, passed away after a one and a half year journey with lung cancer. Four weeks later, her husband David developed crushing chest pain and was discovered to have an aortic dissection. Careflighted to UVA, he survived a seven hour open heart surgery only to be in the ICU for 5 weeks and a prolonged recovery. Four days later, one of our houses on the farm burned down in an electrical fire. Our beloved dog Emmy passed away shortly after that; son-in-law Curt's 99 year old mother subsequently had a stroke, then broke her hip….it just seemed like one thing after another was testing our resilience.
It's hard to imagine a family enduring more…but we survived, and now we're back! While we have a new set of caretakers, our commitment to the basics has never flagged. As Wooz and David have consistently demonstrated over the last fifteen years, we remain determined to protect the purity of the Devon breed by offering only the finest bulls and cows, with truly exceptional bloodlines, conformation, and ease of handling.
You owe it to yourself, and to your herd, to come out and visit us!
See the new Thistlehill Farm team
---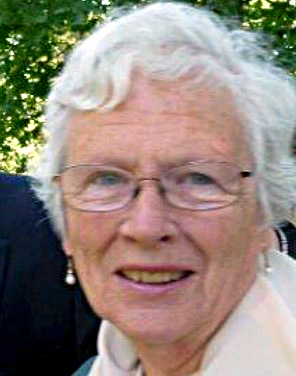 Elizabeth "Wooz" Matthews was 10 years old when her family purchased what was to become Thistle Hill Farm in the foothills of Virginia's Blue Ridge.
Seventy-years later, she died on her beloved farm....surrounded by her family, her dogs and, on a nearby pasture, her Devon cattle.
Wooz died as she lived, with grace and dignity. Her love of Devon cattle and dedicated work had made her a champion of the breed, both in the United States and in England.
When she welcomed her first Devon to Thistle Hill in 2004, They was considered to be close to an endangered species. She lived to see Devon accepted across the country as the premier grass fed cow.
Her last days were comforted by watching a video loop of the beautiful Devon herd she had created.
---
Back to the future….

With our long search for the most pure English Devon genetics bearing fruit, we face some tough decisions. We have built a beautiful herd of Devon over the past 10 years but there's just not room for everyone….who stays, who goes?
The purity of the Devon breed is under assault, not only here but in England. Loving Devon as we do, we decided to devote these years focusing on producing a traditional Devon herd here on our farm. And that means, as our historic English calves mature, our beautiful American Devon will have to yield.
So we invite you to inspect proven dams and sires (and their off-spring) and help us make these difficult choices.
This by no means a dispersal sale…and we're in no hurry. The transition will take several years. But it starts now.
---
How do you work these things?
A new-born bull calf is up on his legs and a little surprised!  Moving any one of those four things will probably deposit him right back on the ground.  He'll get the knack within a few minutes.  Shortly after, he'll be trotting unsteadily, trying to keep up with Mom.  By mid-afternoon he'll be running and playing with his herd-mates.
For the first time in a couple of years, Thistle Hill will be offering not only exceptional young bull calves but females of various ages as well.  You can choose: open or bred.
If you're looking to expand, upgrade, or add new genetics, give us a call and fire off an email.  And make plans to visit soon to see why Thistle Hill Devon make a difference.
---
By the way.....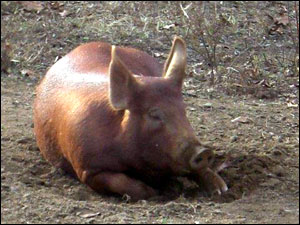 Thistle Hill does pigs, too.  And like our Devon, they're red and we think they're special.

Pigs are strictly a sideline, though.  We began raising a few Tamworth for ourselves.  But then people starting tasting our pork chops and sausages. And bacon!  And we decided to share this special pork with our beef customers.

Twice a year now we harvest about four pigs.  Mostly they go to folks who have ordered a whole animal.  But from time to time, we keep one for ourselves to make cuts available for others.  The chops and bacon from our most recent harvest are gone, but you can still order breakfast sausage, brats and kielbasa.  And, of course, you can always contact to be put on the list for your very own hog!
---
The Boys of Thistle Hill...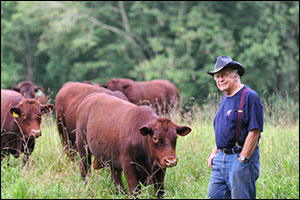 …..our picks from the calf crop two years ago.  At Thistle Hill we think you really can't be sure about a bull until their second year.  But if you come by, we think you'll agree:  they're worth the wait.
Our bulls feature Rotokawa genetics:  688, 93, 974 and 243.  A few are line bred by 688.  And as a bonus, you can see how they stack up against our Traditional Devon bulls:  Churchill and Wellington, out of the great English cow Tilbrook Cashtiller.
Photo:  Ciao Bella Photos, Warrenton, VA
---
We believe in Magic…
….and if you're looking for a meat sire…Thistle Hill's Magic S484 is the bull for you.  Well, you can't have him, but you can purchase his semen.
Magic is far and away the meatiest bull we've seen…here or anywhere.  He's a Rotokawa 93 son out of one of our first cows, and she's still producing great calves at age 8.  And Magic's new owners agree.  Regina and Jim Tesnow of Tomina Farm in Waynesboro, Tennessee have now collected semen from this bull…there are calves at both our farms.
We highly recommend him for your program for two reasons:  Not only is he an outstanding  meat bull,  Magic is just a Frame Score 1….all that meat is packed-in close to the ground…so he'll add to the efficiency of your herd, too.
As the song goes, "We believe in Magic"….so much so that we offered to help the Tesnow's market his semen.   Straws are $25 and there's a 10-straw minimum.  Call or email us for more information or to place an order.  (No, there's nothing in it for us.  We just believe in Magic and what he can do for our breed!)
---
 Getting started in Devon…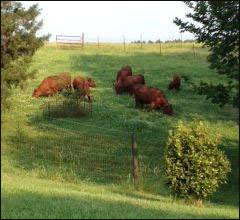 What is truly rewarding is introducing people to Devon and then helping them start their own herd.  These Thistle Hill Devon have just walked off the trailer at Pacolet, South Carolina and onto the farm of Linda Hendrix and her son, Dr. John Hendrix.  The Hendrix' purchased not only a young bull but four young bred cows, two with calves at their side.  It's what is called a "three-in-one": cow, calf and pregnancy.  We recommend this as the way to get started.  First, the cows have established a family and that eases the transition to new surroundings.  And the cows, while young with many years of productivity ahead, have delivered their first calves so they can teach their new owners all about it.  You can read more…and see more pictures…by going to our blog. (click here)
---
On the pastures of Thistle Hill….
We spent a few hours recently photographing Thistle Hill's Devon.  We'll be using the pictures soon to update our cow and bull pages, but here's a preview:
U6 (1) is a Rotokawa 93 son out of a 688 daughter and we've used him sparingly this first season.  He still has a lot of growing to do but the foundation is there.
X3  (2) is only a few months old but shows a lot of promise.  Thistle Hill likes their bulls thick with lower frame scores.  This is the target!
W18 (3) is very much in the mold.  A Rotokawa 243 son; he'd be tough to sell.  Fortunately, we also have his brother.
The 64s (4) are particular favorites of Wooz.  An unbroken string of heifers and this is the latest by our former herd bull, Watson.  Read more about this line at our blog under the heading:  "You gotta love her…."
In all, we are very proud of our class of 2012:  14 heifers and 5 bulls are being offered for sale.  It would be a good idea to act quickly by emailing or calling.  Visitors (even "tire-kickers") are always welcome.
---
One of the 7 Rotokawa 688 calves, a heifer, at three-months.  She's on the DeKalb Wells farm in North Carolina.
A heifer here at Thistle Hill, #4, and now four-months old.
We had two bull calves; this one is #6.  Again, four-months.
Wooz tries out her new iPhone.  All the pictures turned out movies.  Back to the instructions!
For our non-farm readers:  line-breeding describes the practice of breeding a bull to his own daughter.  If both animals are top notch, the results should be that the good traits are magnified in future generations.  The danger is, any flaw can be magnified, too.  We won't make up our mind about any of these for more than a year but the three here seem to be a good bet to turn out "keepers".  While these aren't for sale, we have a number of other excellent young bulls and heifers you should check out for your herd.  We'd be happy to work with you.
---
The line-breeding experiment....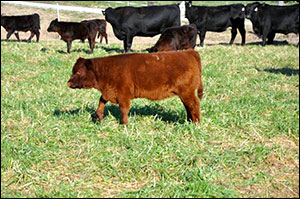 It's a controversial topic in breeding circles, mating fathers and daughters.  You're trying to concentrate the genetics to multiply the effect of the good characteristics of your best animals.  This young heifer, the result of breeding a Rotokawa 688 daughter back to 688, would seem to be the beneficiary of  the desired effect.

And here at Thistle Hill, we now have eight outstanding young calves as the result of the pairing:  two bulls and six heifers.  This three-month old heifer is still down in South Carolina with her recipient mother.  She has a sister there but the rest of the siblings are here in Hume.  Not only does line breeding the best appear to achieve excellent results, there's also a uniformity in our calves that is particularly noteworthy.

The practice of line breeding, though, is controversial, as we said.  You not only concentrate the good genes, but you also can strengthen bad characteristics.  That's why it's important to have a really good bull to start with and, just important, be ready to cull any calf that turns out
less than the best.  There's a chance that something will yet show up, but right now all our 688 calves seem just about perfect.  However, before offering any for sale, we'll want to watch them develop for awhile.  And down the road, we also have to answer a key question:  do we double down?
That is, do we breed these 688 daughter/grand daughters back to 688 again?
---
Scenes from

Thistle Hill

Farm….
We've started our preparations for winter at Thistle Hill.  The last two have been a real challenge and we've spent a good deal of time making sure water and hay will be available.  Meanwhile, our experiment with mob grazing has left us with more stockpiled grass than ever and we're hopeful that we'll get through January before its time to  start unrolling bales.  
A week-old heifer, our newest calf, seeks shelter from the first chills winds in a hillside depression.  She is a first calf by one of our fine new heifers, T64. 
In the foreground, two of the five line bred daughters of

Rotokawa

688 born this year..  One has already been talen; sorry, the rest we're keeping as an important element in our herd.
Some young calves playing around Vulture Rock in our western pasture.  Moms come running if they see those ominous black birds circling in the sky.
Thistle Hill two-year olds savoring the grass on Lindsay Sagstuen and John Dibble's farm before heading home for breeding.
We are fortunate to have access to pastures at four neighbors' homes during the grazing season.  Our thanks to Lindsay and John, and Don and Sue Ferro, Frank Wickersham and Kirk and Jo James.  This has been an exciting year at Thistle Hill, capped by a complete sell-out of our heifer crop.  And the line is already forming for next year.  We now have 30 producing Devon cows with four of the best heifers we've ever seen going "on-line"  next season.  If you've been thinking of putting Red Ruby Devon in your herd, now's the time.  We invite you to drop in any time to see what we're doing.   And we haven't forgotten our meat customers.  Seven steers have been set aside for Thistle Hill's beef fans in the coming year.  If you'd like to be on our mailing list to be notified when beef is available, just send us an email us at devon@thistlehill.net.   Speaking of new arrivals,  please check our new blog from time to time for the latest news. 
---
Welcome NADA and ADCA members….
Congratulations on your recent successful annual meetings and a special salute to presidents Jeff Moore and Jeremy Engh.  Thistle Hill Farm is proud of its deep roots in both organizations, had the unique experience of being there at the founding of the American Devon Cattle Association and then the North American Devon Association.  In fact, we wrote the bylaws for both.
But our roots in Devon go back even farther…right back to the Pilgrims!
   Above clockwise from top left:
 Our daughter, Carolyn Matthews is a descendant on her late father's side, of William Bradford, leader of the Pilgrims and the man who brought the very first Devon to America. 
Dr. Matthews, a Dallas cancer surgeon and director of integrative medicine at Baylor Medical Center, was a featured speaker at the recent NADA meeting in Illinois.
Mom, Wooz Matthews, pictured with NADA Breed Standard Chairman Don Minto and President Jeff Moore, is the Association registrar and guardian of the purity of the Devon breed. 
Both mother and daughter are veteran Devon breeders on a farm that keeps  the best from history but isn't afraid to try new things;  for instance, this line bred Rotokawa 688 bull calf.
If  this is your first visit to our website, we invite you to look around, inspect photos of our animals, and make plans to visit us soon to see our excellent selection of all the leading Devon genetics.  And keep checking back for an exciting announcement as we close the circle begun by our Pilgrim forefathers!
---
Thistle Hill Farm….at the grass fed cross-roads….
Thistle Hill Farm has played host to an unusually large number of visitors recently….some from right around the corner.  But others from around the world. 
These folks were from New Zealand and New York.  Dairy farmers mostly with a little beef on the side.  They were curious about our Devon but more curious about our grass.
We're still new to this mob grazing business and, frankly, haven't made up our minds.  But recently we do believe we're seeing some difference in our grass and soil.  The idea is to put a lot of pounds of cattle on a small area for maximum impact and then move them on quickly.  We already see it will increase our carrying capacity (space for more cows) and provide us with extra forage for winter stockpile.   As for revitalizing and re-balancing our soil organisms:  too early to tell.  And how do we tell?
Meanwhile, as our meat business has continued to grow, we've been happy to welcome more and more neighbors dropping in to see how we do things here.  The sold out sign has been up pretty consistently, so if you'd like to experience our beef or pork, we urge you to sign up.  (info@thistlehill.net)  We'll notify you when the next steer gets close to harvest.  But note: we only provide meat locally and do not ship.  If you live outside northern Virginia, contact a grass fed breeder near you.  We'll be happy to supply a name.
---
We try not to toot our own horn too much but sometimes we can't resist.   So we're pleased to report that Thistle Hill Farm IS one of 10 farms selected for a pilot project by Holistic Management International.  The organization is the world leader is all-natural, sustainable agriculture and as step one in the Pilot Project, HMI's grazing expert, Ian Mitchell-Innes of South Africa, visited our farm recently as we established a base line for the improvements we plan to make.
Others in the Pilot Project, as well as HMI headquarters training personnel, trooped along to hear all Mitchell-Innes had to say.  The forms and reports we're preparing are enough to fill a thick notebook and we're anxious to get started.  For more pictures of Ian's visit click here
---
It's too early to be sure, but this brand new bull calf seems to be an exciting herd bull prospect.  We call him THF 688-1, recognition that he is the son of the great Rotokawa sire, 688.  More than that,  he is the result of an experiment: line-breeding 688 to his own daughter.  In this instance, at least, the controversial technique appears to be a success.  We have four more embryo bull calves…and four females…due in several months.
Our plan is to hold them all and give them plenty of time to develop.  We think it takes about two years to be really certain about a young bull.
This year's auspicious start comes on the heels of last year's wonderful calf crop: bulls and heifers by a Rotokawa 974 son (Watson) here at Thistle Hill and by AI, Rotokawa 93. For pictures of our bulls just click here.
---
Visitors to our local community fair emptied Thistle Hill's shelves recently (alright,  be technical, they emptied our five coolers and we even went back at noon to re-stock).  The big appeal was a sample box weighing 13 pounds that was half burger plus a couple of NY Strips as well as pork chops and sausage.  All for about $60.  When those sold out, and we actually had customers fighting over the last ones, we switched to selling individual cuts of both our Devon grass fed beef and our pastured Tamworth pork. 
When it was over, our freezers back at the farm were totally stripped of hamburger.  How often does that happen?
The whole idea was to introduce local people to the fact there was a farm in their midst producing the quality product they had heard about but never sampled.  (And yes, we gave rain checks to the disappointed customers)  A good draw was a raffle of a cured ham.  No purchase required and you didn't have to wait to be there to win.  We urge you to keep your eye open for similar events….people would rather buy food than "knick knacks", particularly in this economy!
---
Ken McDowall,

New Zealand

breeder of Rotokawa fame, shared the secrets of his success with a large crowd of grass fed beef enthusiasts at our farm recently.  Breeders came from throughout the Southeast....one even came from

England

.  Thistle Hill Farm was one of just three farms selected by Ken to stage this advanced seminar.  The day began with lectures by Ken and Rotokawa/America Chief Ridge Shinn at a nearby motel; adjourned for Devon burgers at a local market; then to the farm winding up with some socializing under our tent.  We want to thank all the attendees and we're honored to have been able to host this event.  For more pictures click here