Return of the prodigal...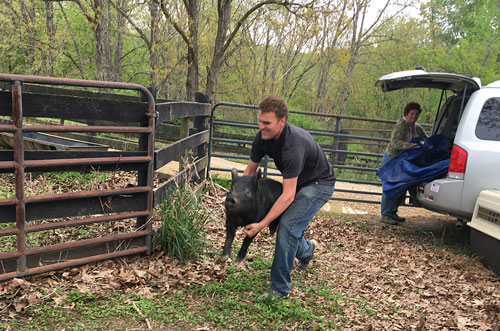 ...perhaps not literally but Thistle Hill once again has pigs in residence. Farm manager Church Humphreys finally relented and so, after a two -year hiatus, we will again be able to offer healthy, pasture-raised pork fattened with the added flavor of our acorns and chestnuts.
These are mule foot pigs, unlike the Tamworth and Gloucester Old Spot we've had before, which were English heritage breeds. The mule foot is descended from Spanish pigs which were imported hundreds of years ago into Florida and became almost extinct because they grew too slowly for commercial operations. But slow growth means big flavor. The name derives from the fact their hooves are not cloven.
The first meat should be available in the fall but some of the younger newcomers won't be ready until the end of the year. By the way, we're told that mule foot ham is particularly delicious.