Call him a "meat wagon"…
…the great Potheridge President…a Devon champion 70 years ago.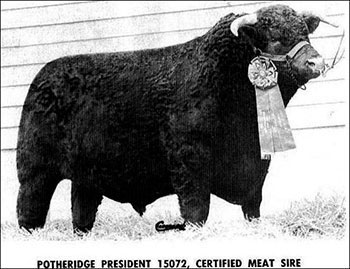 When the Armour Packing Company imported Potheridge President from England to the United States he pushed the bar way up for quality and efficiency in beef cows.
In fact President set the standard when he was the first bull singled out by the USDA as an outstanding beef producer. It was a "real world" test against 12 other bulls…most Angus or Hereford. And what was measured were their calves…more than 100. President finished high in all the categories and scored at the top in ribeye area, cutability and carcass value.
Fortunately what was then the relatively new science of artificial insemination and cryogenics makes President…gone for half a century…available to us today. And not long ago we concluded a purchase of a number of straws of historic Devon semen from Heather and Don Minto when they liquidated their herd in Rhode Island. Among the purchases were two ampules of semen…the equivalent of four straws…from President.
So it was a noteworthy day…a tense day to be sure…when Thistle Hill recently used that rare semen and implanted eggs fertilized by President in our cows.
For a photo report on the big day go to What's New