A November morn...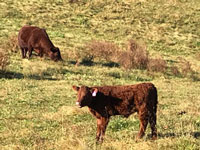 With the extra hour in the morning, grandson Church was out roaming the pastures checking on some of our new little ones. Grandpa was along for the ride thanks to modern technology.
A pure traditional English Devon...this is Equinox...six weeks old. Dam is Buttercup; sire is Churchill. Bred and calved here.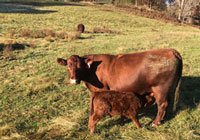 Again pure English Devon, an embryo we implanted here. He's out of Ashott-Barton Tulip by Cutcombe Jaunty.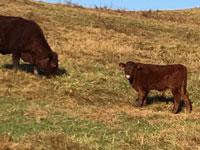 Finally and really finally since we have waited a long time for this: an A/B Bribery heifer. Of course all English. Sire is Jaunty.
Church is managing Thistle Hill now . He's dividing his time between that and pursuing an advance degree in biology. But he's never too busy to welcome visitors to Thistle Hill Farm...home in America to pure, traditional English Devon.
For more on him and Our Team.